Appalachian Basin
Activist Wendy Lynne Lee Comes to Pittsburgh University Campus
Activist, Wendy Lynne Lee took a trip to Southwest Pennsylvania where she gave a lecture at the University of Pittsburgh at Greensburg. Much like the other Lee presentations I have attended, this one was also filled with misinformation about the natural gas industry. 
Last week I had the opportunity to attend a lecture by Wendy Lynne Lee at the University of Pittsburgh's Greensburg campus. Following the lecture was a panel discussion in which Lee participated.  The lecture and panel were part of the annual Dr. Bernard Cobetto Lecture Series on Contemporary Ethical Issues.  The title of this year's lecture was When the Earth Moves Under Our Feet: The Pennsylvania Marcellus Gas Rush.  It was an interesting evening to say the least.
The event took place in the Ferguson Theater.  The room was about three quarters full with students, faculty, and community members.
The "lecture" included reading notes to the audience that included misinformation  about various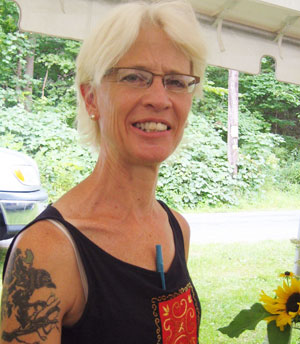 pictures of industry operations.  Wendy Lynne Lee, PhD, a professor of Philosophy at Bloomsburg University of Pa, was the keynote speaker and is a prime example of  an individual who believes the sky is falling thanks to hydraulic fracturing.  Even though the cleanliness of our air is actually improving thanks to shale development having shed over 574,000 tons of toxic air pollutants last year alone.
Given this fact and others like it, Ms. Lee is certainly entitled to her opinion, but not to her own facts.  The points Ms. Lee stated were similar to her story telling at Susquehanna University in November of last year.  It appears reading to her audience, mis-characterizing industry pictures, and telling half truths is her mode of operation.
Personally, I find it rather irresponsible that a philosophy professor who teaches ethics is so uninformed and disingenuous in her public presentations about an industry in which she has no professional experience.  Sadly, this is common among natural gas opponents who either cannot or will not talk about facts and science behind natural gas development.
Care for a few examples of Lee's mis-statements?   Lee labeled a picture of a service rig as a hydraulic fracturing operation, suggested a picture of a drilling rig with steam rising in the background was silica dispersing in the air, and a very poor quality picture of what looked like a compressor station under construction was a "double frac operation," whatever that is.
Ms. Lee didn't stop there.  She disparaged the community of Dimock, Pa. stating it has contaminated water.  That's an interesting assertion given the fact that  both the Pennsylvania Department of Environmental Protection (PA DEP) and EPA have deemed the town's water safe.  Lee also imputed PVR/Aqua America's purchase of the Riverdale Mobile Home Park in Piatt Township, Pa. as the reason people were evicted from the park, never once explaining the park was a flood zone property that had been for sale for three years prior and was not allowed to be a mobile home park any longer.  And, rather than engaging in a discussion on facts surrounding regulatory requirements in Pennsylvania, Ms. Lee chose to simply disparage PA DEP carte blanche.
Of course, Lee's tirade didn't end there.  She also threw our one liners such as "hydraulic fracturing causes breast cancer."  It seems Lee decided to completely ignore the fact that this atrocious claim has been refuted by Texas medical authorities and the Susan G. Komen Foundation in an Associated Press review last year. Lee also suggested that medical personnel do not have access to information on hydraulic fracturing fluid additives. Here again Lee's assertions take a swift departure from reality as  Material Safety Data Sheets are on file at every well site and Act 13 clearly stipulates that natural gas companies must provide this information to medical personnel if needed in the treatment of a patient.  Specifically, the law states, "the vendor, service provider or operator shall immediately disclose the information to the health professional upon a verbal acknowledgment … that the information may not be used for purposes other than the health needs asserted and that the health professional shall maintain the information as confidential."
Lee also harped on radioactivity in flowback as some sort of nail in the proverbial coffin when, in fact, in March 2011, the PA DEP conducted tests at water treatment facilities in Western Pa which led to an Associated Press report that  "wastewater from natural gas drilling raised no red flags for radioactivity." The testing further indicated that,  "samples also showed levels below the federal drinking water standard for radium 226 and 228."  To put this into context, the Youngstown Vindicator recently reported that "the average chest X-ray emits 4,000 microrem, according to the EPA, which is 600 times the radiation found in drill cuttings." Ms. Lee also failed to mention that PA DEP recently announced a study aimed at further evaluating NORM levels in natural gas development-related byproducts will begin soon and the industry fully supports such science based studies.
After Ms. Lee's lecture the discussion continued with a panel; only this time the audience had the opportunity to hear some facts from Susan Oliver, Manager of Community Relations for WPX Energy in the Marcellus Shale.  See the full video of the panel discussion below:
Ms. Lee's entire performance was fear mongering at its best. It displayed once again how activists try to take advantage of a community without regard for residents or the facts surrounding shale development.  If Ms. Lee wants to be taken seriously and truly wants to educate the public, then she has an obligation to learn about the industry, the functions of equipment, the technology used, and the extensive regulatory requirements the industry must abide by, rather than presenting herself as just another story teller.  I'm sure if Ms. Lee contacted WPX they would be happy teach her about the industry and provide a tour or two, or three, or more…..
Follow Us: